Madeira has an expressway road network that goes almost all the way around the island. These expressways almost all have road tunnels due to Madeira's mountainous terrain. (There are just over a hundred tunnels in Madeira!) These lanes are numbered VE1 to VE7 (Expressway) and also the VR1 (Fastway) around Funchal. They allow you to get around the island quickly by car and have the particularity of being free.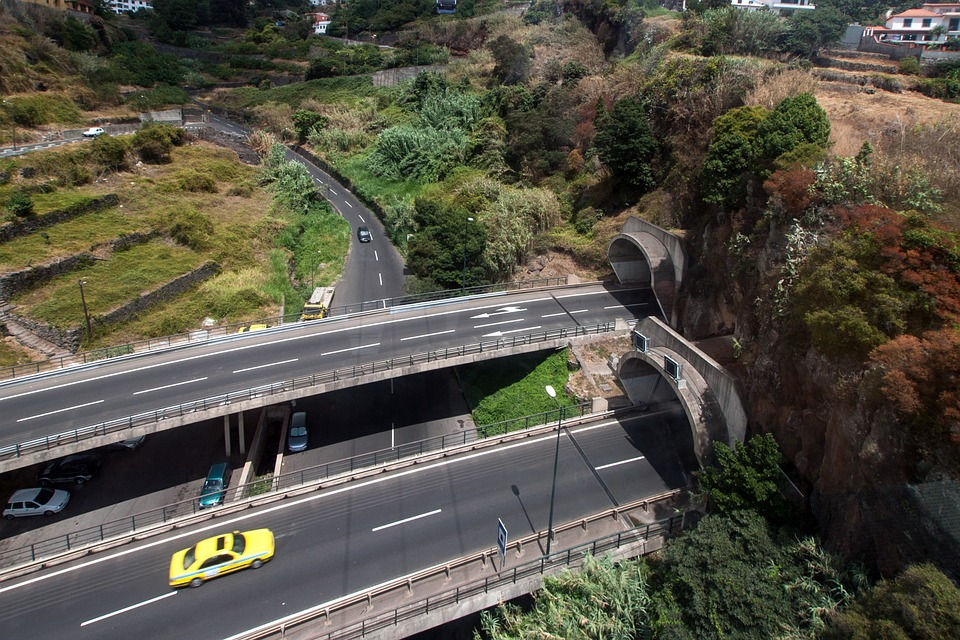 There is of course a secondary network of regional roads (Estrada Regionale) which allow you to get around the island. However, these roads are much more winding as they go through the mountainous interior of Madeira Island.
VR1: South East Expressway
The VR1 is Madeira's main axis, in a way the only motorway. It allows you to get to and from the capital very quickly. The VR1 covers the whole south-eastern area of the island: from Ribeira Brava to Canical, passing of course through Funchal. There are some tunnels, but also some very long bridges.
The main towns served by the VR1:
Ribeira Brava
Camara de Lobos
Funchal
Caniço
Santa Cruz
Machico
Caniçal
VE1: North-East Expressway
VE1 covers the north-eastern part of the island. It runs from Machico to Santana. It is cut off (probably because of the relief) and resumes from Boa Ventura to São Vicente.
VE2: Northwestern Expressway
VE2 is the route that links São Vicente to Porto Moniz. It provides access to the entire northwestern part of the island, including Seixal and Ribeira de Janela.
VE3: Southwestern Expressway
The VE3 provides access to the south-western part of the island: from Ribeira Brava to the tip of Ponta do Pargo. It serves the villages of Ponta do Sol and Calheta, among others.
VE4: South-North Expressway
The only expressway that does not run along the coast, VE4 takes you across the middle of the island, from south to north, linking the villages of Ribeira Brava and Sao Vicente.
VE5, VE6 and VE7
Shorter expressways that allow you to take tunnels and get to Curral das Freitas, Camacha, and finally VE7 which links Jardim do Mar to Paul do Mar
The secondary network:
The roads numbered E.R.101 to E.R. 220 are numerous and allow you to access various points on the island with your vehicle. These roads are more winding and often have a gradient. This is something to consider when choosing a rental car. A small engine is not necessarily ideal in Madeira's picos!