The Madeira archipelago is located in the southwest of Portugal, less than 1000 km from the Portuguese coast, in the middle of the Atlantic Ocean. Madeira is however much closer to Morocco: about 700 km to the east.
Madeira is about :
2400 km from Paris
950 km from Lisbon
450 km north of the Canary Islands
1000 km from the Azores
4000 km from North America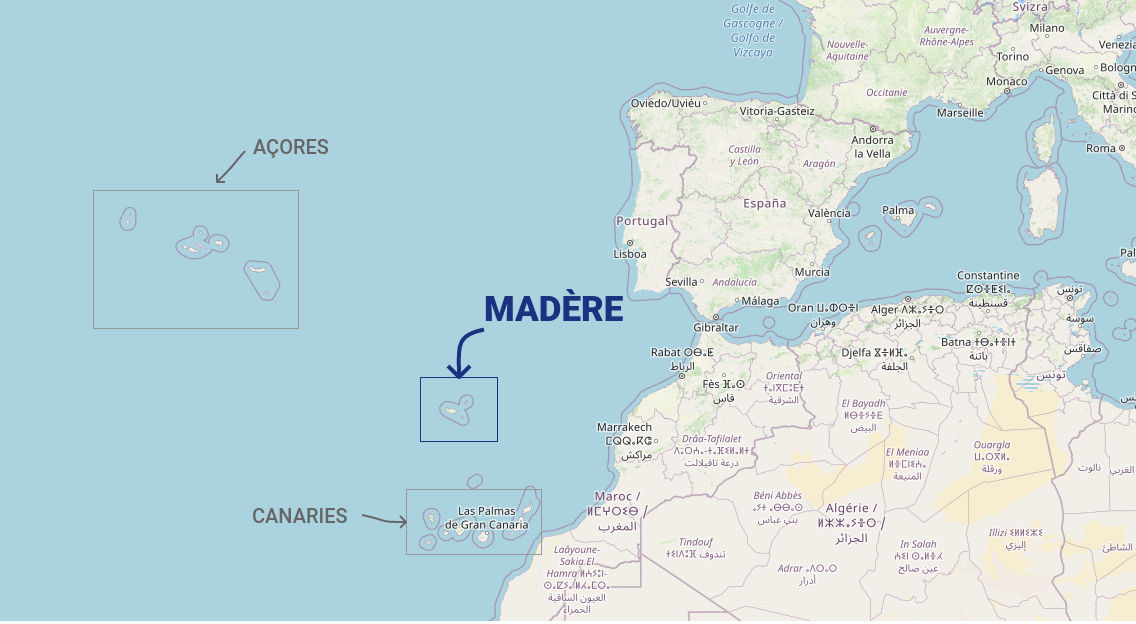 Madeira is one of the Macaronesian islands, just like Cape Verde, the Canaries or the Azores. These islands share various common points, geographical and geological of course, but also fauna and flora. For example, the laurisilva forest is present in the Azores, Madeira and also in some Canary Islands such as La Gomera or Tenerife. These islands also have similarities in their history: their dependence on Portugal or Spain, but also the time of the great discoveries and also of piracy.
Madeira is an archipelago of about 800 km² made up of several islands and islets, including 2 inhabited islands: Madeira and Porto Santo. The Desertas Islands, and many small islets complete the archipelago. (See my article The Madeira Archipelago for more information).
To get to Madeira it takes about 1 hour 40 minutes to fly from Lisbon, which is the closest departure point with many scheduled flights. In general, flights often have a stopover in Lisbon, which makes the flight longer.
Now that you know where Madeira is located, you can explore the island in more detail with the interactive map of Madeira. Over 100 places to discover are listed!