Renting a car in Madeira is quite common for getting around freely. Upon arrival at Madeira Airport, it is possible to rent a car with the classic rental companies: Europcar, Avis, Sixt, Hertz, and many local rental agencies in Madeira such as Rodavent rent a car.

Why go for a car rental?
In Madeira there are many public transport lines. In fact, the most beautiful spots and villages are quite well served by bus. But to have more flexibility and be able to manage your time on the island without stress, it's better to rent a car. Of course, it's an extra budget, but we're still here to enjoy ourselves and the freedom of a self-tour is much nicer. And to be completely transparent: the bus journeys are very, very long. Count for a 50 minutes journey by car, between 2 and 3 hours by bus... !
Which agency to choose?
I would tend to choose a well-known agency like one of those mentioned above. If only to have a French customer service if needed. But this is just a personal point of view. The rental agencies are located in Funchal and also directly at Funchal airport. I'm more used to Avis and Europcar, so I might go for one of these 2. When you get there, chances are that the person who will give you the car does not speak French. You might as well prepare your English now...
What is the necessary budget?
Basically, renting a car is not very expensive: count between 100 and 150 € per week. However, you will have to pay attention to the excess, which quickly rises to more than 1000 € in case of an accident and the need for repairs, especially for possible scratches or impacts on the windscreen, which can happen to anyone. Enough to scare you. For this, the agencies offer to buy back the excess. It is about 200 €. This is something to think about very seriously, even if it means an additional cost. You should also look at your bank card: making a reservation with a Gold or Premier card includes the franchise buy-back. You should count on between 130 and 140 € per year. You will also need to take into account the cost of fuel, which is around €50 if you travel every day and want to visit the whole island. It is necessary to fill up the tank just before returning the vehicle, in general there are always petrol stations near the airports.
So for a week's car rental in Madeira, we are looking at a budget of about 350 €. So if we go with two people that comes to 170 € per person. For an 8 day trip to Madeira :
At least 150-200 € without excess.
With excess between 350 and 400 €.
With the insurance included in Gold or Premium, count between 280 and 340 € (if you have to buy the card)
You can save some money if you spend the last few days in Funchal and return the car a little before the end of your stay. There is no special need for a rental car in Funchal, as Madeira's capital is very well served by buses. There is also a shuttle bus to the Madeira airport.
What type of car should I rent?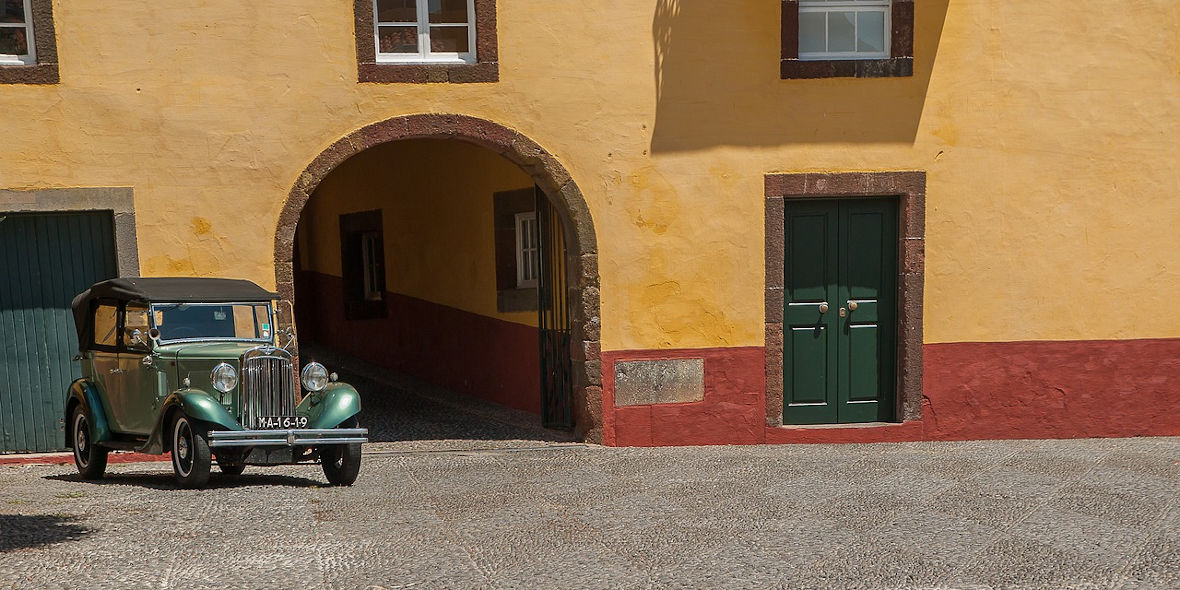 There are several "groups" of passenger vehicles: category A, B or C for the cheaper ones, depending on the model of vehicle you want and the options. The roads are generally well maintained in Madeira and off-roading is simply forbidden, so with two people, a category A or B vehicle is sufficient, you are not going to spend your life in your car anyway. Nevertheless, and this is an important detail, some category A cars have a very small engine and we may therefore suffer during our stay on Madeira Island: there is a lot of unevenness on some roads. So don't be too stingy either, it can be quite unpleasant to suffer on the climbs. Journeys should never last more than 1 or 2 hours maximum.
When should you start?
It's best to book online in advance to avoid any unpleasant surprises and having to look for an agency on the spot. It's a good idea to pay directly when you book, otherwise additional costs of around 10 €uros will be added. When you leave the airport, go to the rental agency with the following documents
The copy of the reservation
your valid identity card or passport
your driving licence
a photocopy of the reservation
Your bank card (Visa / Mastercard). You will need to borrow it.