The Levada Do Moinho is a hiking trail along an irrigation canal, called Levada. This route is located in the North West of Madeira Island. It usually starts from North to South, but can also be done in reverse.
Porto Moniz, the town of natural pools, is usually the starting point. The route follows the famous ER101 until it reaches Junqueira, where it finally follows the Levada, going up the river in the opposite direction. The route ends at Achadas Da Cruz, after a diversion a little further south, the highlight of the hike: a waterfall that is the starting point of the irrigation tunnel.
Of medium difficulty, the particularity of this levada was to serve a number of mills, hence the name "Do Moinho" which means mill. Today, the Achadas mill and some ruins (the Cancelas mill and the Levada Grande mill) still remain. During the excursion, we will find ourselves in the famous Laurissilva forest.
What about the Levada Do Moinho?
The Levada Grande is not necessarily the best known, it is not easy to find correct indications and, even if many Portuguese sites mention it, I think that there are small translation defects. Several sites sometimes mention places that are difficult to find. For example, it says that the levada ends at Junqueira. You can type this village name on the internet, you will hardly find anything, and for good reason, it is a small place attached to Porto Moniz. The most appropriate route is this one, which goes to Porto Moniz.
Anyway, I think it's an interesting route if you spend some time on the northwest coast of Madeira, and considering the little information you can find on the internet, I think it's far from being overrun with tourists. There is also the Levada da Ribeira da Janela which is just east of Porto Moniz, and is obviously more well known and in the top 10 of things to do in Madeira.
The hiking in detail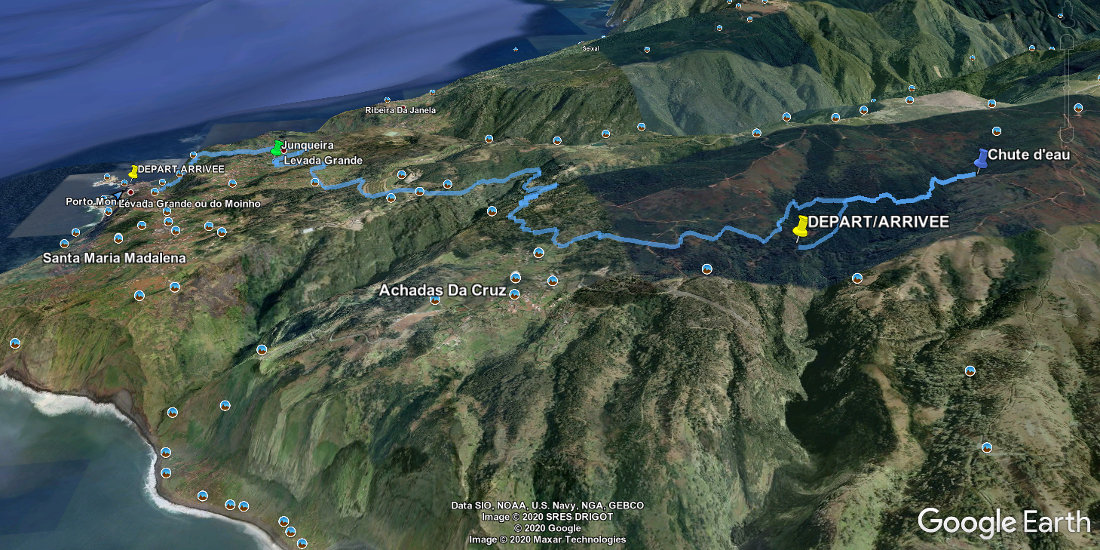 Google Earth is a great tool to get an idea of the elevation changes and difficulty of a route. I've put some bullets on the image above.
In Yellow the start and finish points. 2 important things: the terrible 500m drop from Porto Moniz to Junqueira, and the loop from Achadas to the waterfall.
On the right of the screen, the waterfall. You can see the downward slope that allows the water to reach the northern tip of the island.
In green, the place called Junqueira.